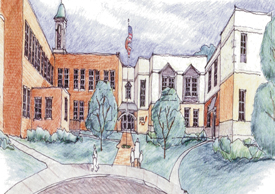 The Human Resources Agency of New Britain, Inc. (HRA) employs more than 200 hundred people throughout Connecticut. We seek to hire qualified individuals who will support our mission to help people achieve their economic and social potential, respond to the causes and conditions of poverty, and build stronger individuals, families and communities in the greater New Britain and Bristol area.
It is the policy of HRA of New Britain, Inc. to provide equal employment opportunities solely on the basis of individual merit without regard to race, color, religion, age, sex, physical disability, national origin or political beliefs to all its applicants and employees.
Apply for a Career with HRA Learn About Employee Benefits
If you cannot find the right job, we encourage you to volunteer with us.
Two HRA Employees Receive State of CT General Assembly Official Citation
State Representative Bobby Sanchez & Marlo Greponne

State Representative Bobby Sanchez & Irene Chlastawa
Human Resources Agency of New Britain, Inc. is an Affirmative Action / Equal Opportunity Employer