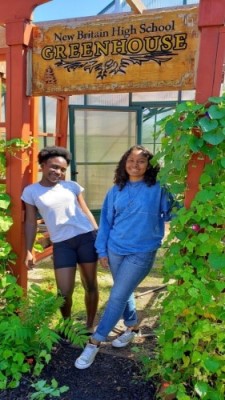 Preparing high school students for careers with competency training, subsidized work experience, and other learning experiences.
Services Offered:
Career exploration
Career competency training
Paid work experience for high school students
2023 Program Update
The 2023 Summer Youth Application is now available on the CWP website.
2023 SYELP Fact Sheet Click Here To Apply
There is a help guide on the CWP website to assist participants and their families with completing the application. This year is similar to previous summer applications:
Be between the ages 14-24 (by July 1)
Eligible to work in the USA
Must be low-income (Specific Eligibility Requirements: Receive Free/Reduced Lunch, SNAP, TANF)
If you have any questions, contact our office at (860) 826.6991 or send an e-mail to [email protected].
This program runs from July through August. Call one of the locations below to learn more or enroll. Walk-ins also welcome.
Jason Zuckowicz & Julissa Gomez pose in front of their YWCA Photovoice Project presentation.

Senator Gennaro Bizzrro visits the Photovoice public presentation.
Ashley Lopez works in the central office at HRA.

Ronald Puma & Mark Rodriguez file at Konover Residential.
For More Information, Visit:
Program funded in part by Capital Workforce Partners, with the generous funding of the State of Connecticut and American Savings Foundation.