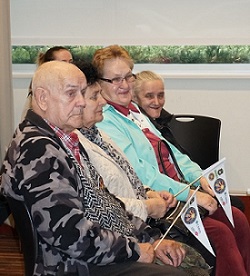 Dial-A-Ride and other transportation services help Bristol and Plainville seniors to live independently.
Transportation is Provided To:
Medical appointments (scheduling priority)
Grocery stores
Social engagements
Bristol & Plainville senior centers
Call (860) 589.6968 for an appointment. Walk-ins also welcome.
Eligibility
Bristol residents: Age 55+ or disabled
Plainville residents: Age 60+, Plainville Senior Center members
Transportation Hours (Monday - Friday)
First pick-up: 8:45 am
Last pick-up: 1:00 pm
Return trips can be any time until 3:00 pm
No van service on holidays and when the Bristol school system is closed.
To Arrange Service:
Call (860) 589.6968 at least 24-48 hours ahead of time
Rides must be reserved by 11:00 am the day prior
Be prepared to give the rider's full name, telephone number, appointment time, and destination address
"For those of us who don't drive, Dial-a-Ride is a godsend. It allows us to do the things we need to do and wouldn't be able to do otherwise. You are always so pleasant, thoughtful and helpful to me. I can't begin to tell you how very much I appreciate it and all that you do for me. THANK YOU!!!"
–Fran Martin
Resources
Program funded by the CT Department of Transportation, North Central Area Agency on Aging (NCAA), Cities of Bristol & Plainville, CT.