Director, Operations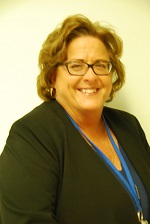 Barbara Parsons is the Director of Community Services. She also manages the Energy Assistance Program and Facilities function of HRA.
Barbara's leadership and expertise in the areas of community service, information technology and facilities has contributed to the agency's growth since she joined in 1979. Earlier in her career here she focused on neighborhood and case management services which led to her positions as the Commodities Director, Lead Abatement Manager and Head Start Family Information Systems Program Administrator.
She has been the Director of Energy Assistance since 1982, overseeing the implementation, compliance and reporting for over 5,000 clients each year. She has been the Director of Community Services since 2005, leading case management, elderly outreach, and special services for the Polish community.
In 2009 Barbara assumed the role of Facilities Director in which she manages the repairs, maintenance and remodeling, landscaping, security and vendor contracts for all of HRA's buildings.
Barbara holds her Bachelor of Arts in Sociology and is a Certified Lead Inspector, Certified Microsoft A+ Core Hardware, Certified Microsoft A+ Operational Systems, Novell, and is well-versed in a variety of software programs.